The project "FocusOn" at Fuorisalone 2017 – Milan
The project "FocusOn" at Fuorisalone 2017 – Milan
Contest "White in the city"
created by Oikos
The Golden Section and the Gothic Arch
The "FocusOn" wants focus on research in Architecture, sound, human behavior and technology.
After the "Sottilissimo Templum", an experimental plan in Golden Section presented during the "Biennale di Venezia 2014", the "FocusOn" is generated by a vertical-frontal section, which designed the plan.
the "Sottilissimo" studied the linearity of the vertical elements in the sunlight, the "FocusOn" uses two different radiuses to create a modern and revisited Gothic Arch in golden section.
Human Behavior
The "FocusOn", posed in front of the church of San Carpoforo, was a kind of  "trap" in which I could attend the interviews with visitors about the impact of the perception of architecture but not their judgments.
Nothing to intend, non message of the moment, just golden proportion and technology from the best research.
The idea of "focusOn" was born from the studies of Ernst Chladni on geometry generated by the sound, always predictable, by the relations between matter, its sound/frequence and the geometry.
So I used golden proportion as a geometry from an archetype frequence that generated the natural environment, here structured with artigianal wooden glulam arch-beam, aeronautic recycled pvc,
etfe air-pillow for the roof , nano-composite plaster on the wall, Carrara's marble on the floor and acrylic stone for the desk.
Why these materials for "White in the city"
I obviously chose white materials, and painted the wooden parts with Oikos's paint. Only the rods and the elastic beams on the top, for the etfe pillows, were bilt in carbon ropes without resin.
I wanted to use:
– Wooden Glulam Beam: craft parts of this structure, were so worm, light and sustainable.
– Etfe for the roof, because is insulating with its air in there, it is translucent and lightness, esthetically perfect for this project.
– A prototype of a new sistem for building of an extra-thin and insulating wall:
a total white Nano-Composite Plaster was used as a micro-transpirant structural glue to paste Recycled Micro-transpirant Aeronautic Pvc. This wall is also incombustible and recyclable.
– Carrara's Marble: so white, so beautiful.
– Betacryl Desk: it's inner light was so expressive in the night, giving beautiful tones to the etfe roof.
The Events
"FocusOn" housed a photo exibition by Tommaso Gastaldi about concerts and singers. It was our way to put music inside "FocusOn", because of the relatioship between geometry and sound, as I said before.
The biodynamic farmer " Macchion dei Lupi" from Tuscany – Suvereto – presented its new wine "Psichè" on friday evening. A wine produced in nature whitout any chemical treatments, but with innovative biological and sustainable thinking in agricultural managment.
"FocusOn" close its circle starting from the Proportion of Nature and giving to the kind visitors perception of music and sounds and the wine that the man invented from the fruits of nature.
And so was for the inventors and their helpful and contemporary inventions, studied to have a better life, golden part of the golden proportion of "FocusOn".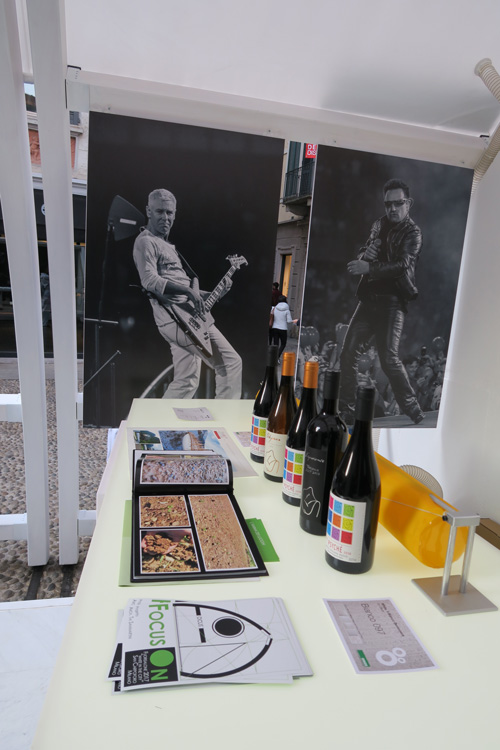 Our partners about FocusOn:
http://www.macotechnology.com/blog/etfe-legno-un-esperimento-fuorisalone-2017/
https://www.diabgroup.com/en-GB/Cases/Construction/With-FocusOn-Italian-architect-takes-sustainability-to-a-new-level?c=